Teeth Whitening San Francisco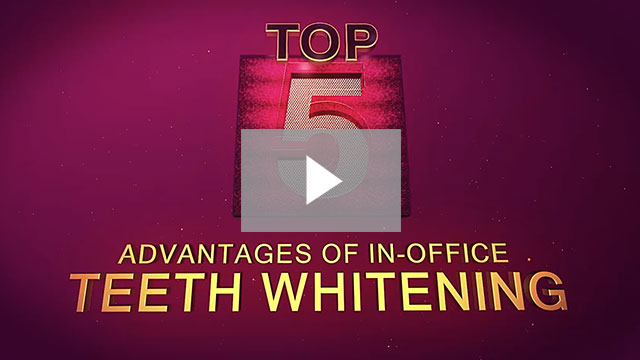 Our San Francisco teeth whitening experts at CitiDent offer several options, including at-home bleaching products, Zoom whitening and laser whitening. At-home whitening systems combine customized mouth trays that fit the contours of your mouth and use a powerful bleaching agent to whiten teeth. Professional at-home whitening systems are more powerful than over-the-counter versions, and their customized fit ensures maximum contact between the teeth and whitening gel. This ensures that you will get the most out of every whitening treatment. Most people begin to see results in just a few days, but maximum results may take longer to develop.
Zoom whitening and laser teeth whitening are performed in our office. They use prescription-strength bleaching gels that are applied directly to the teeth. The Zoom gel is then activated by the Zoom light while the laser system uses a special blend of whitening gels that are activated by a laser. Both processes are extremely fast and offer dramatic results in a single appointment with our San Francisco cosmetic dentist at CitiDent.
After completing any whitening treatment, you can keep your teeth looking their best longer with a few basic changes. Limit your exposure to staining substances, rinse with water after drinking staining beverages or eating staining foods, and practice good dental hygiene. Contact our office today to learn more about getting the smile that you have always wanted or to schedule your appointment with one of our experts in teeth whitening in San Francisco.
Related Teeth Whitening Articles
Teeth Whitening – Brighter, lighter, whiter...
The subconscious impact of a white smile is radiant health, happiness, warmth and invitation. This phenomenon has been reinforced with the spread of American culture worldwide, where an especially white smile has even been coined a "Hollywood smile." Today brighter, lighter, whiter teeth have become a norm. Tooth whitening by bleaching is a successful, conservative, relatively inexpensive and safe alternative... Read Article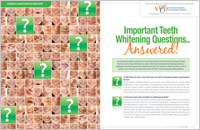 Important Teeth Whitening Questions Answered!
In Dear Doctor's interview with nationally noted teeth-whitening expert Dr. Van B. Haywood, he answers questions about bleaching techniques and safety in achieving the best possible results. If you are thinking about getting your teeth whitened at your dentist's office or doing it yourself at home, this is a must-read... Read Article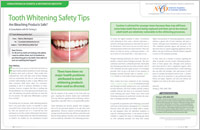 Tooth Whitening Safety Tips
There have been no major health problems attributed to tooth whitening products when used as directed. Many studies have confirmed this, and we will share some of these findings with you... Read Article
Address: 120 Battery St., San Francisco, CA 94111
Phone: 415.391.4466
Email: info@CitiDentOnline.com
Office Hours
Monday 9:00am - 5:00pm
Tuesday 9:00am - 5:00pm
Wednesday 9:00am - 5:00pm
Thursday 9:00am - 5:00pm
Friday 9:00am - 5:00pm
© 2018 CitiDent. All rights reserved.