TMJ San Francisco
Our expert in TMJ in San Francisco may diagnose and treat TMJ in a variety of ways depending on symptoms and the findings of an exam. Feeling and listening to the jaw joints while patients open and close their mouth may be used in making a diagnosis of TMJ. X-rays, CT scans, and MRIs may also be used by our San Francisco TMJ expert to pinpoint the problem. Although surgery may be recommended for severe TMJ, the disorder may also be treated with bite guards, pain relievers, antidepressants, muscle relaxers, and sedatives. Corticosteroid injections are useful in reducing inflammation, and a procedure called arthrocentesis may be used to remove inflammatory substances from the temporomandibular joints.
Patients may be able to relieve TMJ symptoms at home by reducing stress, avoiding overuse of the jaw joints and using hot or cold compresses on the temporomandibular joints. However, severe TMJ can benefit from diagnosis and treatment by our expert in TMJ in San Francisco. A consultation with Dr. Amini, our dentist in San Francisco, can be scheduled to learn more about TMJ and its diagnosis and treatment.
Related TMJ/TMD Articles
TMD – The Great Impostor
This "chameleon" of dental disorders manifests in a variety of ways, including joint pain, sinusitus, ear pain, tooth and headaches. The causes of TMD, its signs and symptoms and what can be done to treat this common disorder... Read Article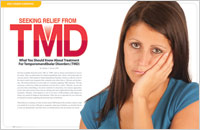 TMD, or Temporomandibular Disorders, is an umbrella term for various painful conditions that affect the jaw joints. There are different treatment approaches to TMD problems, but not all are based on science. It's important to be up on the latest information and to be an educated consumer. In this comprehensive article, Dear Doctorprovides state-of-the-art information and guidance on what you should know, whom you should see, and what you should ask... Read Article
Address: 120 Battery St., San Francisco, CA 94111
Phone: 415.391.4466
Email: info@CitiDentOnline.com
Office Hours
Monday 9:00am - 5:00pm
Tuesday 9:00am - 5:00pm
Wednesday 9:00am - 5:00pm
Thursday 9:00am - 5:00pm
Friday 9:00am - 5:00pm
© 2018 CitiDent. All rights reserved.