Smile Makeover San Francisco
Each smile makeover begins at a consultation with our San Francisco smile makeover experts. A unique treatment plan is created with recommendations for improving different facets of appearance. After patients choose procedures to undergo, they receive treatment over a variable number of appointments depending on their selections.
Candidacy for smile makeover procedures varies for individuals based on health and other factors. In some cases, patients who are not eligible for certain options may be able to opt for others for similar results. Answers to candidacy questions can be obtained at a consultation with our San Francisco smile makeover experts.
The smile makeover is a comprehensive solution to many types of cosmetic flaws that plague patients. Rather than revisiting oral appearance over years, patients can identify key problem areas and restore them in a shorter time period. Individual results vary because no treatment plan is the same between patients. For more information on smile makeover options and eligibility for specific treatments, patients can schedule a consultation with our cosmetic dentist in San Francisco.
Related Smile Makeover Articles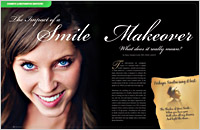 The Impact of a Smile Makeover
Americans are catching on to the emotional and social importance of a healthy, beautiful smile, and they're seeking out ways to improve their smiles. Learn why and what a change could mean for you... Read Article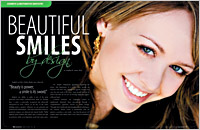 Beautiful Smiles by Design
The first in a series of articles dedicated to the "art and science" of designing a more appealing smile. One of the country's foremost leaders in cosmetic dentistry discusses how you and your dentist partner to create a great new look... Read Article
Address: 120 Battery St., San Francisco, CA 94111
Phone: 415.391.4466
Email: info@CitiDentOnline.com
Office Hours
Monday 9:00am - 5:00pm
Tuesday 9:00am - 5:00pm
Wednesday 9:00am - 5:00pm
Thursday 9:00am - 5:00pm
Friday 9:00am - 5:00pm
© 2018 CitiDent. All rights reserved.