Invisalign San Francisco
During the planning process, we will digitize your records, and Dr. Amini, our San Francisco Invisalign expert, will plan exact tooth movements throughout the treatment. You will even be able to get a preview of your new smile before you even begin treatment. The aligners will then be created. Most people will need 20 to 30 aligners per arch. These aligners should be worn at least 20 to 22 hours per day and changed every two weeks or as our cosmetic dentist in San Francisco recommends.
Your aligners will be made of a clear, strong plastic. The first one will fit your teeth precisely, and each subsequent set of aligners will move your teeth just a bit closer towards their final position. The removable aligners are easy to use and to get used to, and you can remove them to eat, brush and floss. Regular checkups can help you stay on track during your treatment. Contact our office today to learn more about available orthodontic treatment options or to schedule your appointment with Dr. Amini, our expert in Invisalign in San Francisco.
Dr. Ben Amini has a Preferred Premier Provider status at Invisalign for the past three years in a row. He is one of the first few doctors certified by Align Technology, the maker of Invisalign, to offer this great break-through technology in San Francisco since 1998.
Dr. Amini is one of eight doctors selected for The Align Technology Innovation Leadership Panel in August 2011. This select group of Invisalign doctors advise Align Technology, the manufacturer of Invisalign, on product innovation ideas. These doctors have an exclusive level of access to information about new Invisalign products and services, and are a key source of ideas for new product innovation.
Related Clear Orthodontic Aligner Articles
Clear Orthodontic Aligners
The orthodontic treatment using clear aligners consists of a series of aligners that you change about every two weeks over a course of treatment lasting six to eighteen months depending on how much movement is needed... Read Article
Clear Aligners for Teenagers
Teens who regard traditional braces as restrictive, confining, and obstructive to their lifestyles now have another choice for orthodontic treatment: clear aligners. This advanced dental technology, originally geared toward adults, has recently evolved to treat a greater variety of bite problems in younger people. These improved orthodontic appliances can help teens function normally during a difficult phase of life... Read Article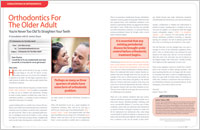 Orthodontics for the Older Adult
Healthy teeth can be moved at any age, so there's no such thing as "too old" for braces. In fact, nowadays about one out of every five orthodontic patients is an adult. Yet this figure represents only a small portion of adults who could actually benefit from orthodontic treatment... Read Article
Address: 120 Battery St., San Francisco, CA 94111
Phone: 415.391.4466
Email: info@CitiDentOnline.com
Office Hours
Monday 9:00am - 5:00pm
Tuesday 9:00am - 5:00pm
Wednesday 9:00am - 5:00pm
Thursday 9:00am - 5:00pm
Friday 9:00am - 5:00pm
© 2018 CitiDent. All rights reserved.