Endodontics San Francisco
The type of endodontic treatment recommended by our expert in endodontics in San Francisco depends on the symptoms and treatment goals involved. For many patients, standard root canal therapy is sufficient. This entails preparing the tooth, removing infected tissue, packing the space with medicated material and a buildup material, and covering the tooth with an optional CAD/CAM single visit crown. With special circumstances, particularly during retreatment, our endodontist may recommend root canal surgery instead. Surgery can vary but generally involves reaching the infected tissue from another angle and removing more tissue in order to completely eliminate the infection.
Although root canal has popularly been depicted as a painful procedure to be avoided, it is actually a conformable procedure if diagnosed early and treated early before the tooth becomes so inflamed from the infection. Anesthesia is used, and patients can receive sedation from our endodontist in San Francisco depending on eligibility and medical history. Furthermore, endodontic care actually helps eliminate pain and protects patients long into the future. By keeping teeth in place instead of having them extracted and replaced, patients also enjoy more comfort and a natural appearance. To learn more about endodontics and its benefits, patients can schedule a consultation with our dentist in San Francisco.
To see more information about our San Francisco endodontist, please go the bio section for Dr. Paul Weller in Our Doctors list of our website.
Related Dental Sealants Articles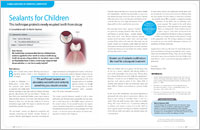 Sealants for Children
The tiny grooves in your child's back teeth are ideal places for cavities to form. But you can take a proactive role in preventing this with dental sealants. These are protective plastic resin coatings placed in these tiny pits and fissures of teeth, actually sealing them from attack. It's a wonderful method of decay prevention that every parent should consider... Read Article
What is Tooth Decay? – And How to Prevent It!
Tooth Decay is an infection, and many people don't realize that it is preventable. This article is the first in a series about tooth decay, perhaps the number one reason children and adults lose teeth during their lifetime. Explore the causes of tooth decay, its prevention and the relationship to bacteria, sugars and acids... Read Article
How to Help Your Child Develop the Best Habits for Oral Health
Proper oral health habits are easy to learn - and lead to behaviors that result in life-long dental health. And the time to begin is as soon as your child's first baby teeth appear. From tooth-brushing for your toddler to helping your teenager stay away from tobacco, Dear Doctor offers the most important tips for healthy habit formation through childhood and beyond... Read Article
Top 10 Oral Health Tips For Children
There's no need to wait until your baby actually has teeth to lay the foundations for good oral or general health. In fact, good nutrition and oral hygiene can start right away. It is up to you to develop the routines that will help protect your child from tooth decay and other oral health problems. So let's get started... Read Article
Address: 120 Battery St., San Francisco, CA 94111
Phone: 415.391.4466
Email: info@CitiDentOnline.com
Office Hours
Monday 9:00am - 5:00pm
Tuesday 9:00am - 5:00pm
Wednesday 9:00am - 5:00pm
Thursday 9:00am - 5:00pm
Friday 9:00am - 5:00pm