Porcelain Dental Veneers San Fransisco
Patients who choose dental veneers must visit our San Francisco porcelain veneers experts at CitiDent for three visits in most cases. At an initial appointment, patients discuss their treatment goals and have their current enamel shade measured by our CitiDent dentists. A second visit is used to prepare the teeth, take dental impressions for veneers construction and place temporary veneers for protection. At the third and final visit, our dentists evaluate the results and bond the new veneers to the teeth permanently.
Patients who are generally healthy and are not currently in need of major restorative work are generally candidates for this treatment from our experts in porcelain veneers in San Francisco at CitiDent. Although cosmetic goals are most often the reason for seeking veneers, patients who need teeth strengthened and protected may also benefit from this procedure.
Porcelain veneers remain a versatile mainstay of cosmetic dentistry. By undergoing this treatment, patients can completely eliminate signs of discoloration, cracks, chips and improper rotation and spacing. Depending on the goals of patients, this treatment can be applied to one or several teeth to correct minor issues or gain smile-wide symmetry. A consultation with our San Francisco cosmetic dentist can be scheduled to learn more about this treatment, its uses and who can receive it.
Related Porcelain Veneer Articles
Smile Design Enhanced with Porcelain Veneers
In part two of the series on Smile Design, Dear Doctor takes an in-depth look at Porcelain Veneers, a superior yet minimally invasive technique for smile enhancement. We'll explain not only when they're appropriate, but also when they're not... Read Article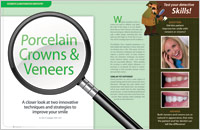 Porcelain Crowns & Veneers
A closer look at two innovative techniques and strategies to improve your smile. In many instances these two restorative techniques can produce nearly identical esthetic results, even though they are structurally different... Read Article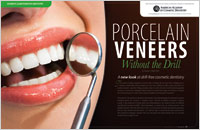 Porcelain Veneers – Without A Drill
No drilling — reality or ridiculous? A no-drill technique requires a second look, as new materials and concepts have created new esthetic possibilities. Reactions and opinions among dentists have ranged from absolute disbelief to moderate acceptance. This article gives hope and reasons for patients to get excited about this conservative drill-free cosmetic technique... Read Article
Address: 120 Battery St., San Francisco, CA 94111
Phone: 415.391.4466
Email: info@CitiDentOnline.com
Office Hours
Monday 9:00am - 5:00pm
Tuesday 9:00am - 5:00pm
Wednesday 9:00am - 5:00pm
Thursday 9:00am - 5:00pm
Friday 9:00am - 5:00pm