Restoration with porcelain crowns may be recommended for teeth that have been too severely damaged by decay or trauma for a standard filling to be an option. After root canal treatment, our San Francisco porcelain crowns expert may cover the treated tooth with a crown to protect it and preserve its appearance. Teeth that are cracked, broken, or heavily stained can also benefit from being covered with a porcelain crown. Tooth replacement with porcelain crowns offers long-term stability whether used in combination with bridges or implants.
Porcelain Dental Crowns San Francisco
After receiving a porcelain crown, patients enjoy restoration of their looks as well as their abilities to speak and chew properly. Considering the thickness of crowns, this treatment from our expert in dental crowns in San Francisco can be more desirable than veneers when high durability is required along with cosmetic improvement. The aesthetic results that are possible with crowns can match or even exceed the appearance of surrounding teeth.
Porcelain crown placement begins with a break through technology of CAD/CAM by taking a digital impressions or images for use in constructing the new crown. Next, our dentist designs the new porcelain crown to fit naturally in your mouth. Once the new crown is designed at chairside, the information is sent to the milling unit located on site on the same visit. Finally, our expert in CAD/CAM porcelain crowns in San Francisco checks the new crown for fit and bonds it in place permanently using a dental resin.
Porcelain crowns, like regular teeth, benefit from daily brushing and flossing and biannual check-ups from our cosmetic dentist in San Francisco. With proper care, porcelain crowns can last many years. Patients can learn more about this treatment by scheduling a consultation with Dr. Ben Amini and Associate dentists at CitiDent.
Related Dental Crown Articles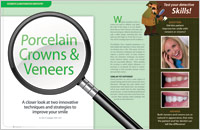 Porcelain Crowns & Veneers
A closer look at two innovative techniques and strategies to improve your smile. In many instances these two restorative techniques can produce nearly identical esthetic results, even though they are structurally different... Read Article
Value Of Quality Care
Are all crowns created equal? One of the most important factors adding to cost is the quality of the crown itself. Another fact is that dentists generally sub-contract out crown manufacturing to a dental laboratory technician, as they rarely make crowns themselves... Read Article
Creating In-Office Dental Restorations With Computers
Once upon a time, dentists - and patients - needed to wait weeks for a dental laboratory to make crowns and other dental restorations. Now, with an exciting digital technology known as Computer-Aided Design/Computer-Aided Manufacturing (CAD/CAM), some dentists are fabricating high-quality restorations themselves right in their own offices - in minutes! Read Article
Address: 120 Battery St., San Francisco, CA 94111
Phone: 415.391.4466
Email: info@CitiDentOnline.com
Office Hours
Monday 9:00am - 5:00pm
Tuesday 9:00am - 5:00pm
Wednesday 9:00am - 5:00pm
Thursday 9:00am - 5:00pm
Friday 9:00am - 5:00pm