Periodontics San Francisco
Periodontal care includes several treatments and can vary depending on the symptoms and severity involved. To treat early gingivitis, our expert in periodontics in San Francisco may recommend the use of antimicrobial mouth rinses and scaling and root planing. During scaling and root planing, Dr. Amini or other CitiDent dentists use special instruments to remove plaque and tartar from the teeth above and below the gum line. When advanced periodontitis is present, our San Francisco dentists may recommend procedures such as gum flap surgery or tissue grafting. Gum flap surgery involves making incisions in the gums to better reach the bacterial populations there while tissue grafting is used to stimulate regeneration of bone and gum tissue that has already been damaged by the disease.
As periodontal problems become more common in the United States, the importance of specialized treatment is increasing. Periodontal disease is currently affecting up to 70% of the adult population in United States. Although even advanced periodontitis can usually be treated, time and costs involved are easier to bear when the disease is caught early. To learn more about periodontal care, patients can schedule a consultation with our periodontist in San Francisco, Dr. Alec Temlock.
Dr. Alec Temlock is also a specialist in dental implant placement and can offer you the most natural tooth replacement option offered today for patients. If you have a missing tooth and would like to stop the damaging effects of missing teeth, you can call us for a dental implant consultation with our dental implant specialist, Dr. Alec Temlock.
To learn more about Dr. Alec Temlock, please go to the Doctors sections of our website and click on his bio.
Related Periodontal (Gum) Disease Articles
The Link Between Heart & Gum Diseases
Inflammation has emerged as a factor that is involved in the process of Cardiovascular Disease (CVD), which commonly results in heart attacks and strokes. While the precise role inflammation plays in causing chronic CVD remains an area of intense current investigation, much more is now known. The good news is that, based on current research, we know that if we can reduce the inflammation caused by periodontal disease, we can reduce the risk for heart attacks and strokes... Read Article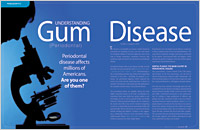 Understanding Gum (Periodontal) Disease
Have your gums ever bled when you brushed or flossed? This most commonly overlooked simple sign may be the start of silent (periodontal) disease leading to tooth loss. Learn what you can do to prevent this problem and keep your teeth for life... Read Article
Diabetes & Periodontal Disease
Diabetes and periodontal disease are chronic inflammatory diseases that impact the health of millions of people. What you may not know is that diabetes and periodontal disease can adversely affect each other... Read Article
Warning Signs of Periodontal (Gum) Disease
This article provides the warning signs of periodontal (gum) disease. Don't wait until it's too late... Read Article
Address: 120 Battery St., San Francisco, CA 94111
Phone: 415.391.4466
Email: info@CitiDentOnline.com
Office Hours
Monday 9:00am - 5:00pm
Tuesday 9:00am - 5:00pm
Wednesday 9:00am - 5:00pm
Thursday 9:00am - 5:00pm
Friday 9:00am - 5:00pm