Minimal Prep Veneers San Francisco
Like traditional veneers, Minimal prep veneers require multiple visits to be placed. A first visit is used to establish treatment goals and determine construction requirements for the Minimal prep veneers. At the next appointment, our San Francisco Minimal prep veneers experts at CitiDent complete preparation that may include some removal of enamel from the teeth to be treated. If enamel is removed, temporary veneers may be placed to protect those teeth until the final appointment, in which our CitiDent dentists will place the Minimal prep veneers and bond them in place permanently.
Minimal prep veneers can be ideal for patients who have generally good oral health but want better-looking, stronger teeth. This treatment may work well for concealing stained teeth that cannot be addressed through standard whitening, but very severe stains may require another type of veneers from our experts in Minimal prep veneers in San Francisco at CitiDent because of the translucency offered by this particular treatment.
The durability and looks associated with Minimal prep veneers make this one of the most popular treatments used in modern cosmetic dentistry. Whether patients have physical flaws or stains on their teeth, Minimal prep veneers may represent a fast and effective solution. By scheduling a consultation with our cosmetic dentist in San Francisco, patients can learn more about this treatment and find out if they are candidates.
No prep veneers work great for patients with small teeth and multiple spaces. Pros of minimal-to-no-prep porcelain veneer over traditional veneers are that the teeth are minimally prepared, if at all, may be considered "reversible", and have a better bond than traditional veneers that are more heavily prepared. However, the most important part of any cosmetic procedure is picking the right dentist and lab. Make sure the dentist has had a lot of experience with both prep and no-prep veneers and that the lab she works with has designed many of these as well. The brand name is less important than the craftsmen (dentist, lab technician) doing the work.
Related Porcelain Veneer Articles
Smile Design Enhanced with Porcelain Veneers
In part two of the series on Smile Design, Dear Doctor takes an in-depth look at Porcelain Veneers, a superior yet minimally invasive technique for smile enhancement. We'll explain not only when they're appropriate, but also when they're not... Read Article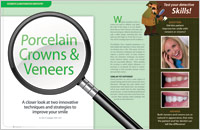 Porcelain Crowns & Veneers
A closer look at two innovative techniques and strategies to improve your smile. In many instances these two restorative techniques can produce nearly identical esthetic results, even though they are structurally different... Read Article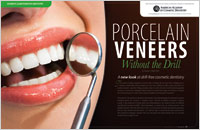 Porcelain Veneers – Without A Drill
No drilling — reality or ridiculous? A no-drill technique requires a second look, as new materials and concepts have created new esthetic possibilities. Reactions and opinions among dentists have ranged from absolute disbelief to moderate acceptance. This article gives hope and reasons for patients to get excited about this conservative drill-free cosmetic technique... Read Article
Address: 120 Battery St., San Francisco, CA 94111
Phone: 415.391.4466
Email: info@CitiDentOnline.com
Office Hours
Monday 9:00am - 5:00pm
Tuesday 9:00am - 5:00pm
Wednesday 9:00am - 5:00pm
Thursday 9:00am - 5:00pm
Friday 9:00am - 5:00pm