Laser Dentistry San Francisco
Discomfort associated with many common dental procedures can be reduced dramatically by using lasers. As a result, treatment is more relaxing for patients. The improved comfort made possible by lasers can also be an advantage for patients who are sensitive or allergic to local anesthesia. Bleeding is less likely to occur when lasers are used, reducing risks of complications during procedures and easing recovery afterwards. Risks of infection are also reduced by these procedures from our San Francisco laser dentistry expert because the lasers can quickly eliminate bacteria from diseased tissues.
Although lasers work well for many types of dental procedures, our expert in laser dentistry in San Francisco may need to use a different type of instrument for certain treatments. In some cases, our dentist may also combine the use of lasers with traditional instruments.
To learn more about laser dentistry options and to find out whether lasers can be used for specific procedures, patients can schedule a consultation with our dentist in San Francisco.
Dr. Ben Amini has an Associate Fellowship Certification in Laser Dentistry by the World Clinical Laser Institute and is a Laser Certified Faculty at the University of California, San Francisco.
Related Laser Dentistry Articles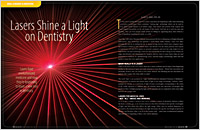 Lasers Shine a Light on Dentistry
Lasers have revolutionized medicine and now they're beginning to blaze a new trail in dentistry. Today, at the dawn of the 21st century there are a variety of dental uses for lasers, from diagnosing cavities and the removal of gum and tooth structure to the treatment of disease... Read Article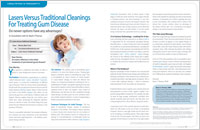 Lasers Versus Traditional Cleanings For Treating Gum Disease
Reported advantages of laser treatment over conventional methods include minimal tissue damage and swelling, less bleeding, sterilization of the treatment area, reduced
Address: 120 Battery St., San Francisco, CA 94111
Phone: 415.391.4466
Email: info@CitiDentOnline.com
Office Hours
Monday 9:00am - 5:00pm
Tuesday 9:00am - 5:00pm
Wednesday 9:00am - 5:00pm
Thursday 9:00am - 5:00pm
Friday 9:00am - 5:00pm