General Dentistry
Our San Francisco general dentistry experts, Dr. Ben Amini and associates, provide general dentistry services designed to prevent and restore oral health problems affecting the teeth and gums. Although several general dentistry procedures focus on functionality, certain aspects of general dentistry also address the appearance of teeth. Routine check-ups or other appointments may include general dentistry services depending on individual risk factors and goals.
Routine check-ups, performed at least once every six months for most patients, are used to inspect the teeth and gums and provide general maintenance of the mouth. Our expert in general dentistry in San Francisco looks at the teeth and gums by optical magnification and illumination, with assistance from X-ray technology, which enables identification of problems that may otherwise be invisible. Thorough cleaning, using manual or ultrasonic technology and polishing instruments, keeps teeth looking good and reduces tooth decay risks.
General Dentistry San Francisco
Preventive care is an important part of dental care at the office of our San Francisco general dentistry expert. At routine check-ups, our dentist may recommend a variety of procedures that help prevent oral health problems. For example, fluoride application can strengthen teeth and reduce risks of decay. Scaling and root planing can be used to remove plaque and tartar from above and below the gum line, decreasing levels of cavity-causing bacteria in the process. Sealants may also be recommended to guard vulnerable areas of the teeth against erosion and decay.
Our expert in general dentistry in San Francisco performs several restorative procedures. Depending on the type and severity of damage present, our dentist may recommend fillings, inlays, onlays, crowns, or other treatments. Tooth replacement with any of several methods is also available. Tooth decay, gum disease, infections, or physical trauma can make these procedures necessary.
Daily brushing and flossing are essential parts of any plan to prevent tooth decay and gum disease, but patients should also visit our dentist as often as recommended for prevention and restoration of oral health problems. Cutting-edge equipment, compassionate staff and the latest dental techniques support the effectiveness of our general dentistry services. To learn more, patients can schedule a consultation with Dr. Amini and associates, our dentists in San Francisco.
Dr. Ben Amini is a Pre-Fellow status in the Academy of General Dentistry (AGD).
Related General Dentistry Articles
The Natural Beauty of Tooth Colored Fillings
The public's demand for aesthetic tooth colored (metal free) restorations (fillings) together with the dental profession's desire to preserve as much natural tooth structure as possible, has led to the development of special "adhesive" tooth colored restorations... Read Article
What is Tooth Decay? – And How to Prevent It!
Tooth Decay is an infection, and many people don't realize that it is preventable. This article is the first in a series about tooth decay, perhaps the number one reason children and adults lose teeth during their lifetime. Explore the causes of tooth decay, its prevention and the relationship to bacteria, sugars and acids... Read Article
Tooth Decay – How To Assess Your Risk
Don't wait for cavities to occur and then have them fixed — stop them before they start. Modern dentistry is moving towards an approach to managing tooth decay that is evidence-based — on years of accumulated, systematic, and valid scientific research. This article discusses what you need to know to assess your risk and change the conditions that lead to decay... Read Article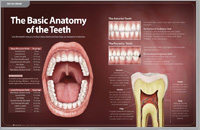 Basic Anatomy of Teeth
Adults have 32 teeth. This includes the wisdom teeth which are simply a third set of molars. It is possible to be born with less than 32 teeth or more than 32 teeth. If a person has had all four of their wisdom teeth removed, they will have 28 teeth...Read Article
Address: 120 Battery St., San Francisco, CA 94111
Phone: 415.391.4466
Email: info@CitiDentOnline.com
Office Hours
Monday 9:00am - 5:00pm
Tuesday 9:00am - 5:00pm
Wednesday 9:00am - 5:00pm
Thursday 9:00am - 5:00pm
Friday 9:00am - 5:00pm