Dental Bridges San Francisco
Our San Francisco dental bridges experts place bridges in a two-step process. In the first step, the adjacent teeth are prepared to support the crown. To guide construction of the bridge and crown, impressions of the teeth are taken. Patients wear a temporary crown until bridge placement to prevent damage and tooth sensitivity in the meantime. Finally, the new bridge is checked for proper fit before being bonded into place permanently with dental cement.
Candidates for dental bridges should still have enough teeth to stabilize the number of bridges they seek. In cases where patients are missing most or all of their teeth, our experts in dental bridges in San Francisco may recommend another form of tooth replacement, such as traditional dentures or dental implants.
Bridges can last for many years with proper at-home care and regular check-ups. Because bridges do have minimal hardware above the gum line, they require the use of special hygiene instruments for use alongside standard brushing and flossing. Patients who receive bridges enjoy restored abilities to chew, speak, and eat normally. By scheduling a consultation with our dentist in San Francisco patients can learn more about dental bridges and their benefits.
Related Bridgework Articles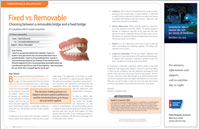 Fixed vs. Removable
For those patients who have lost all their teeth, but have not lost significant bone, a fixed bridge (permanent non-removable teeth) may be the treatment of choice since the new bridge is not needed for facial and lip support. However, not all patients are candidates for this treatment... Read Article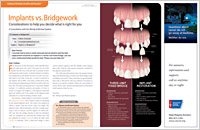 Implants vs. Bridgework
Considerations to help you decide what is right for you. However, a discussion with your dentist is necessary to discuss your specific situation. Please see your dentist to review all the risks, benefits and alternatives to determine which option is best for you... Read Article
Address: 120 Battery St., San Francisco, CA 94111
Phone: 415.391.4466
Email: info@CitiDentOnline.com
Office Hours
Monday 9:00am - 5:00pm
Tuesday 9:00am - 5:00pm
Wednesday 9:00am - 5:00pm
Thursday 9:00am - 5:00pm
Friday 9:00am - 5:00pm