Cosmetic Dentistry San Francisco
Veneers are useful for concealing issues of structure and spacing as well as internal tooth stains. Porcelain veneers, constructed from sturdy ceramic and tinted to look natural, can hide cracks, chips, and gaps permanently while also reinforcing treated teeth. Our San Francisco cosmetic dentistry experts at CitiDent also offer minimal-prep veneers, which are better for teeth, because they require less removal of enamel before placement.
Patients with multiple concerns about their smile can ask our dentist about the smile makeover. The smile makeover is a personalized combination of treatments recommended by our dentists based on the goals patients have. The number of appointments and amount of time required to complete the smile makeover depends on the procedures that patients select. Teeth whitening, veneers, and Invisalign are just a few possible smile makeover options.
After receiving any treatment from our experts in cosmetic dentistry in San Francisco, patients can help their results last longer by brushing and flossing every day and visiting us for a check-up at least once every six months. Although patients can repeat teeth whitening regularly for maintenance of their new looks, patients can expect veneers to last many years with proper care. To learn more about our cosmetic dentistry options, patients can schedule a consultation with Dr. Ben Amini and Associate dentists at CitiDent.
Dr. Ben Amini is a Sustaining Member of Academy of Cosmetic Dentistry (AACD).
Related Cosmetic Dentistry Articles
Cosmetic Dentistry – A Time For Change
Join us as we review the myriad of possibilities available to you for cosmetic dental change. But the biggest part is not just how your smile looks, it's how you feel when you show it... Read Article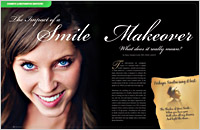 The Impact of a Smile Makeover
Americans are catching on to the emotional and social importance of a healthy, beautiful smile, and they're seeking out ways to improve their smiles. Learn why and what a change could mean for you... Read Article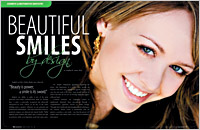 Beautiful Smiles by Design
The first in a series of articles dedicated to the "art and science" of designing a more appealing smile. One of the country's foremost leaders in cosmetic dentistry discusses how you and your dentist partner to create a great new look... Read Article
How And Why Teeth Wear
Are teeth supposed to last for a lifetime? And are humans designed to live for up to a hundred years? Given all the current improvements in the areas of medicine and health, both general and oral, people are not only living longer, but they are also keeping their teeth longer. This article will provide an overview of the "oral system" and one of its more common and important occurrences, tooth wear... Read Article
Address: 120 Battery St., San Francisco, CA 94111
Phone: 415.391.4466
Email: info@CitiDentOnline.com
Office Hours
Monday 9:00am - 5:00pm
Tuesday 9:00am - 5:00pm
Wednesday 9:00am - 5:00pm
Thursday 9:00am - 5:00pm
Friday 9:00am - 5:00pm